1) Video Purchases
Do you offer a return policy?
If you are not 100% satisfied with your purchase, please contact us and we will do our best to help make things right.
How long does it take to receive my DVD?
All DVDs and Blu-rays are sent out six to eight weeks after the ceremony via USPS. You will receive an email to confirm when they've been shipped. If you've not received your video in the allotted time frame, please contact us.
Will a downloadable version of my event be available?
We offer a number of different keepsakes depending on many factors.
Please find your event to see what is available for purchase.
2) Live Streaming
I cannot view my live video. Where is it?
The live-stream should load automatically. If its before or after a show, an intermission video will load and play until the feed is live.

During a live show, if NO VIDEO PLAYS, your connection must be reestablished.
Try refreshing your browser window (or pressing F5)
Try pressing the play button on the viewer window.
Try loading the player page in another web browser
Is my computer / internet connection fast enough to watch the live video?
In most cases yes. However, dialup internet will not work.
What happens if I'm late for the live stream?
Unfortunately, no refunds will be given.
What is the resolution of the Live Stream?
We typically stream all of our events at a resolution of 1280×720 progressive (720p). However, in order to ensure a smooth playback, some live streams are broadcast at standard definition (620×480).
3) Payments
Do I need a PayPal account in order to make a purchase?
No, you do not. We use PayPal as our payment gateway but you do not need an account with them to use their service. Once redirected to PayPayl, click on the, "Don't have a PayPal account? link on the bottom of the page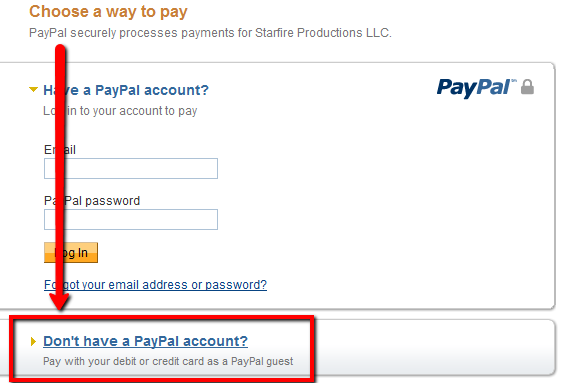 Do you accept orders by mail / personal checks?
Unfortunatly we do not. Please contact us if you would like to make other payment arrangements.
When using Firefox as your web browser, this error might appear. Please make sure Firefox is up-to-date and / or try using a different web browser (eg. use Chrome instead of Firefox)